Prime Day Is Coming! 10 Amazon Prime Benefits You May Have Overlooked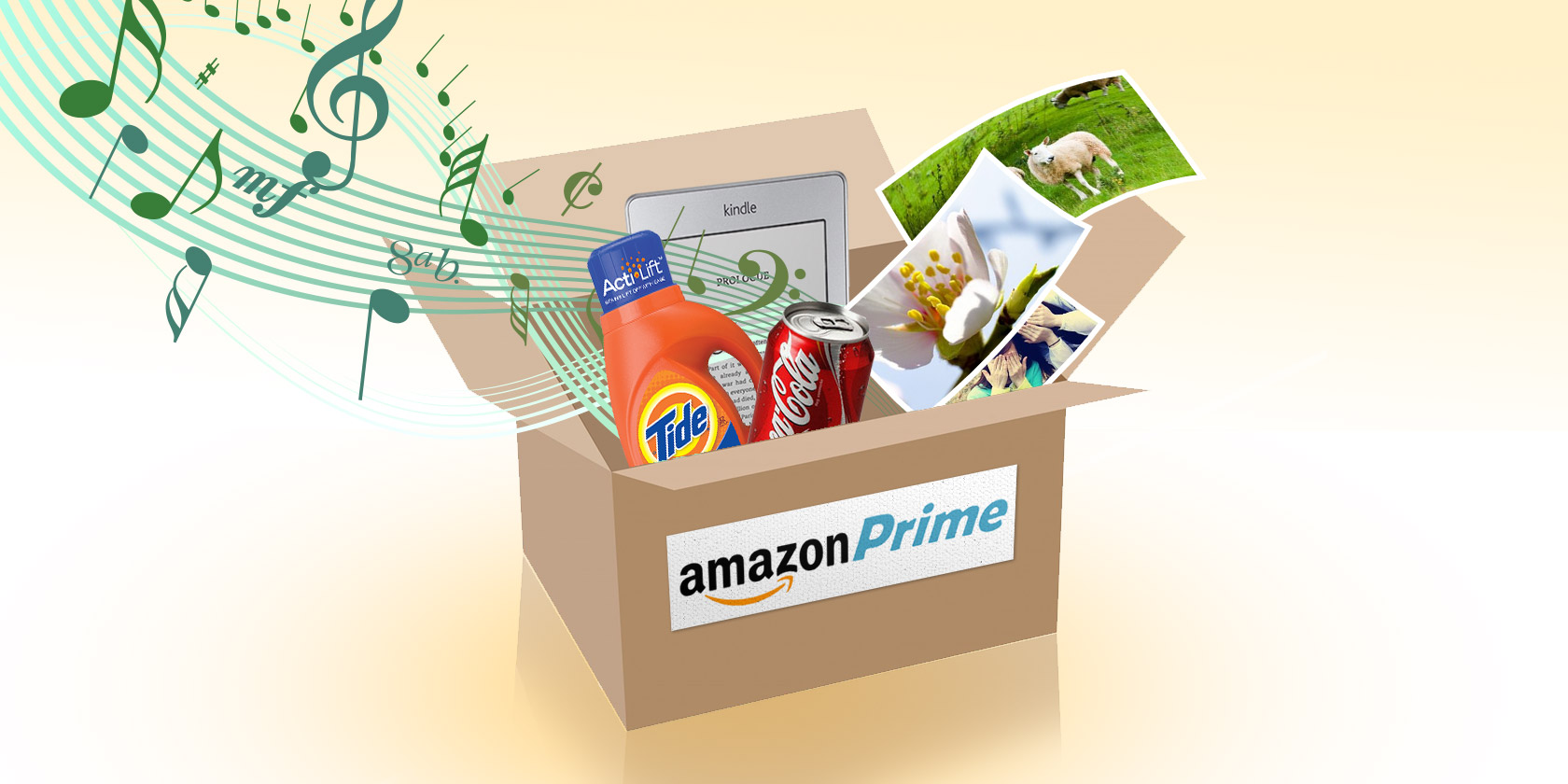 Free shipping and free 2-day deliveries: these two Amazon Prime benefits are the main reasons why over 20 million users have an ongoing subscription. It's true, Amazon Prime is a fantastic deal!
But those features barely scratch the surface. Amazon has gone above and beyond with Amazon Prime, offering many more benefits that people have forgotten about (or simply never realize existed).
Here's how to extract the most value from an Amazon Prime membership. If you don't have a Prime membership yet, perhaps these extra benefits will be enough to justify the annual subscription. Why not grab a 30-day free trial and try it out for yourself?
1. 1-Day and Same-Day Shipping
Did you know that Amazon Prime members in certain cities can get free 1-day shipping and free same-day shipping? To qualify for 1-day or same-day shipping:
Your order total must be at least $ 35.
For same-day, all items must be marked same-day eligible. For 1-day, all items must be marked 1-day eligible.
You must check out before the cut-off time, usually around noon.
The shipping address must be in an eligible zip code. As of this writing, there are over 8,000 participating cities and towns across the continental US.
2. Prime Membership Sharing
Did you know that you can share your Prime membership's shipping benefits with up to four other people? Yes, that's right: four others can make use of your shipping benefits without you needing to give them direct access to your account (i.e. giving them your account password, which might breach the Amazon Terms of Service).
The only stipulation is that these people must live at the same address as you. Or, in other words, membership can only be shared with actual members of the same household. To invite somebody, you'll need to know their name, birthday, and email address. When they accept the invitation, they'll need to know your birthday.
3. Unlimited Photo Storage (Prime Photos)
All Amazon customers start with 5GB of free data storage with Amazon Drive. This includes anything from photos to videos, documents to music files, and whatever else you might want to store on there.
As an Amazon Prime member, your free cloud storage plan is expanded and allows for unlimited photo files storage as part of the Prime Photos program. All photos—whether previously uploaded or uploaded in the future—do not count against your cloud storage data limit.
Note: Photos must be smaller than 2GB. Supported formats include JPEG, PNG, BMP, TIFF, and RAW formats for Nikon (NEF), Canon (CR2), and Sony (ARW) cameras. Prime Photos is only meant for personal, non-commercial use.
4. Ad-Free Video Streaming (Prime Video)
Prime Video is a top contender to both Netflix and Hulu, packed with excellent TV shows worth watching and all kinds of movies ranging from classics to modern hits.
And while Prime Video has long been seen as inferior to Netflix and Hulu, lately it's gotten a lot better. Amazon Studios recently reached new heights, winning two Academy Awards—Best Actor and Best Original Screenplay—for the Amazon Original film, Manchester by the Sea. Other notable originals include Sneaky Pete, The Marvelous Mrs. Maisel, and The Man in the High Castle.
Note that Prime Video can be extended with "add-on channels," which grant access to specific types of content that you may be interested in: Anime Strike, BritBox, Broadway HD, HBO, Horror TV, PBS KIDS, Showtime, STARZ, and many more.
5. Ad-Free Music Streaming (Prime Music)
While there's a lot of entertainment value in Prime Video, it's not the only streaming service offered by Amazon. If you listen to a lot of online music streams, then Prime Music will flip your world upside down.
Amazon maintains a library of over 1 million songs and albums that can be accessed by any Prime member for free. Prime Music includes unlimited skips, no ads, and access to handcrafted Prime Playlists. Don't like them? Feel free to create your own playlists instead.
Learn more in our in-depth look at Amazon Prime Music, or get started right now with 4 months of Prime Music for $ 0.99.
6. Free Twitch Subscription (Twitch Prime)
Love playing video games? Then you probably know about Twitch already. For the uninitiated, Twitch is like YouTube except with real-time live-streamed gameplay rather than pre-recorded videos. Twitch started as a platform for watching gaming tournaments and other events, but has since evolved into so much more.
While Twitch itself is completely free, it has bonus features you can unlock with a Twitch Turbo subscription (e.g. no advertisements). What you may not realize is, every Prime membership comes with Twitch Prime, which basically grants the same benefits as Twitch Turbo. But Twitch Prime offers one unique benefit: every month, certain commercial games are made free to acquire and download!
If you already have a Twitch account, you can connect your account to a 30-day free trial of Prime to start reaping the benefits right away.
7. Flat-Fee Grocery Deliveries (Prime Pantry)
Amazon has a program called Prime Pantry that allows you to order special "Prime Pantry" items that aren't normally available. These items include household essentials and groceries that are too cost-prohibitive to ship individually.
With Prime Pantry, you can two options: either pay $ 7.99 for each shipment of Prime Pantry items or get a Prime Pantry subscription for $ 4.99/month for free shipping on any Prime Pantry order of $ 40 or more. (Orders under $ 40 are still charged $ 7.99 even with a Prime Pantry subscription.)
Due to air shipping regulations, Prime Pantry boxes can only be shipped by ground. Most orders arrive within 4 business days.
If you're interested, you can grab a 30-day free trial of Prime Pantry and experience it for yourself. You may never need to visit your local grocery store ever again.
8. Kindle Ebook Rentals (Lending Library)
Amazon Prime members who own Kindle e-readers or Kindle Fire tablets can rent ebooks for free from the Kindle Owners Lending Library. Rented ebooks have no due dates and can be shared across any devices connected to your Amazon account. The only restriction is that you can only borrow one ebook per calendar month.
Amazon also offers Prime Reading, which grants unlimited access to over 1,000 ebooks in Kindle format, both fiction and nonfiction.
There's also the Kindle First program, which allows Prime members to download one free ebook every month. Titles in the Kindle First program are not-yet-released ebooks that are made available as Kindle First picks one month prior to their official release.
9. Free Months of Prime
Here's a bit of fine print that you probably overlooked: on any order that qualifies for Guaranteed Accelerated Delivery but arrives after the guaranteed delivery date, you can contact Amazon's support center and request a free one-month Prime extension.
There are a few conditions that must be met in order for the extension request to be validated, but most orders qualify without issue.
Also, if you're currently enrolled in a college or university and you have a valid .edu email address, you can register as part of the Prime Student program, which grants a six-month free trial for Prime. When the trial ends, you can upgrade to a full Amazon Prime membership for 50 percent off.
Note: This free trial "only" includes free shipping, free 2-day delivery, and unlimited photo storage with Prime Photos. Prime Video, Prime Music, Kindle Owners Lending Library, and membership sharing are only available with a full Amazon Prime membership.
10. Lightning Deals and Prime Day
Did you know that Amazon has an awesome deals program called Lightning Deals? In short, a Lightning Deal is a discounted item that's only available in a certain quantity for a certain amount of time.
The Lightning Deals program isn't exclusive to Prime, but Prime members have something called Prime Early Access. This lets you get a 30-minute head start on most (but not all) Lightning Deals, which is great because these deals sell out surprisingly fast. Visit the Lightning Deals page to see what's available at any time.
Prime members are also eligible to participate on Prime Day, which is an annual event where thousands of items across the entire site are marked down. If you've been thinking of buying an Amazon device, Prime Day is the best day for it. Check out the best Prime Day deals, or read more about it in our in-depth look at Amazon Prime Day.
What Do You Get With Amazon Prime?
To recap, here are all the notable Prime features that come with Amazon Prime:
Free 2-day, 1-day, or same-day shipping
Prime Photos (unlimited storage for photos)
Prime Music (unlimited ad-free streaming)
Prime Video (unlimited ad-free streaming, plus Amazon Channels add-ons)
Prime Reading (unlimited access to free ebooks, plus Lending Library and Kindle First)
Prime Pantry (flat-rate shipping for groceries and household essentials)
Prime Early Access (see Lightning Deals before everyone else does)
Prime Wardrobe (try before you buy when shopping for clothes)
Twitch Prime (Twitch Turbo benefits, plus free games every month)
Exclusive discounts when shopping at Whole Foods Market
At $ 119/year, that's the equivalent of $ 9.92 per month. What other online subscription offers this much goodness for such an affordable price? (Amazon Prime is also available on a month-to-month basis for $ 13/mo.)
If you don't have Amazon Prime yet, now is the time to grab a 30-day free trial because Amazon Prime Day is right around the corner and you'll be eligible for all kinds of deals!
Read the full article: Prime Day Is Coming! 10 Amazon Prime Benefits You May Have Overlooked